Lawn Services | Landscape Maintenance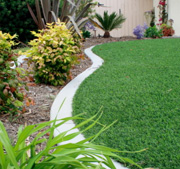 Suburban Lawnscapes is recognized for friendly, approachable employees that are highly trained and knowledgeable in all aspects of landscape and lawn service, from revitalizing unhealthy grasses to maintaining the appealing, clean appearance of your entire landscape.
Landscaping & Lawn Services Offered
Lawn Care Programs
Fertilization
Weed Control
Insect & Disease Control
Core Aeration
Overseeding
Lawn Mowing
Edging & Trimming
Garden Bed Maintenance
Sod Installation
Lawn Renovation
Garden/Landscape Bed Planting
Custom Packages Available!
At Suburban Lawnscapes, we know every lawn and landscape is unique. Call
(703) 335-1477
to receive a free estimate or
contact our landscape and lawn services technicians online.
Serving entire northern Virginia area, including Manassas, Haymarket, Bristow, Fairfax, Chantilly, South Riding, & Vienna, VA.
Providing Comprehensive Landscape & Lawn Services To:
Manassas
Haymarket
Bristow
Fairfax
Chantilly
South Riding
Vienna
And many more locations across northern Virginia
Serving:
Homeowners
Homeowner Associations
Apartment Complexes
Retail/Commercial Properties
Religious Facilities/Churches